Events in Perfect World
---
One of the appeals of Perfect World are the ingame events. There are 3 main events every week and one daily event. All events have level limit. All time stated are in +8 GMT.
Index
Level 1-105: Rancor Force, Tomb Rider Competition
Level 40: Snake Island Racing, Forest Ruins
Level 60: Dragon Palace
Level 80: NetherBeast City
Special Events: Grudge Invasion
Future Events: Invasion of Ancient Dragon City, Yearly Horse Racing, Wisdom Quiz
Misc: 7 Virtues
29/01: Edited the level 60 and lvl 40 events to include more information and pictures.
30/01: Fixed some errors and grammar mistakes.
06/02:Added some information for lvl 80 event
16/02: more details on Tomb Rider Competition.
17/02: added more stuff.
09/03: forest ruins suspended
12/03: complete overhaul of the guide. future events and misc section added.
Some errors are fixed
Work in progress: 95% completed
This guide cannot be distributed anywhere else other than 1perfectworld.com and my blog.
[break=Level 1-105 events]
Rancor Force
This event activates only when the Duke of Deer announces on the world chat that an area is being attacked by the Rancor Force. Upon arriving to the area, you will find special mob with rancor force as part of their names. These mobs are typically hard to kill if you are not the same level as them. They drop armour, weapon, pots, arrows, celestial stone, hell stone, heaven stone, reputation waist adorn, and mission scrolls. The lowest level rancor force is level 20.
There are no level 60 and lvl 80 rancor force and if you kill the rancor force boss, it drops a lot of items.
The event last for 30 minutes.

The Tomb Rider Competition
The tomb Rider Competition starts every Saturday 7pm to 9pm, . When this event start, you can proceed to enter any of the arena at City of feather, City of Ethersword, City of Vanished and Ancient Dragon City.
26 treasure chests are spawned in the middle of the Arena for the players to dig and open Rewards varies from the good (grade 6 soul stone) to the bad (cotton thread). Certain chests spawns bosses* which drops tons of gold(sometimes 20k for each pile), mirage stones, celestial stone, hell stone, and heaven stone. It also spawns mobs which drop badge of strength.
You can fly, ride a mount, PK without any consequences. Players who die in the event will be auto-revived and can proceed to continuing on.
The event does not allow any discarding of items so do make sure you have enough slots in your inventory.
A maximum of 200 people can enter the arena.
*The loots from the boss are free for all to pick.
[break=Level 40 events]
Level 40: Horse Racing events
Horse racing are limited to any characters which are level 40 and above. This event occur twice daily. See this guide for more information.

Level 40: Forest Ruins
Forest ruin occurs every sunday at 3pm. In this event you have to navigate into a maze with traps and try not be killed by the patron mobs.
All mobs deal ungodly damage and you are likely die in one hit. There are also traps that if you fall to them you will die. Once you die you will be revived at the entrance. You do not lose any exp or gold when you die in this event. Only wasting hierograms if you used them.
Your job is to find an npc at the end of the maze. If you are the first to arrive, you can dig a chest which has the gold necklace, the eye of the forester as a reward.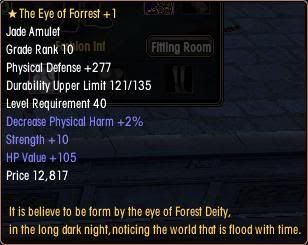 This is a event that gives huge amount of exp if you complete the event in the shortest time. The longer you take to complete the event, the less exp you will received. The event last for 3 hours. After thirty minutes, the amount of exp you can received will be reduced by half. After an hour, that amount of exp will be reduced by half again.
High levels who participle in this event will also receive a lower amount of exp as compared to a level 40. Every ten levels, the amount of experience allocated to a player will reduce. The player who completes the quest under 4minutes and 12 second will obtain the highest reward possible.
There are various rooms with chests in the ruins that cannot be entered unless you use a portal. There are two types of portal. The blue portal sends you back to the entrance and the red portal randomly transport you to any area. These chests contains grade 8 or 9 soulstones, special experience books as well as the the badges of techniques.
NOTE: Forest Ruins is suspended for the MY-EN version due to abuse of bugs.
[break=Level 60 event]

Level 60: Dragon Palace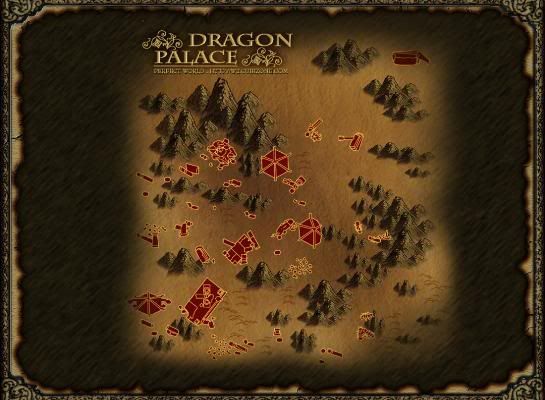 This event takes place from 8pm to 12 midnight every Tuesday. A maximum of 200 players can enter the event at any given time. This is an underwater event where players have to dig treasure chests and exchange the items from the chest to the Dragon Palace Activity Emissary at the starting point.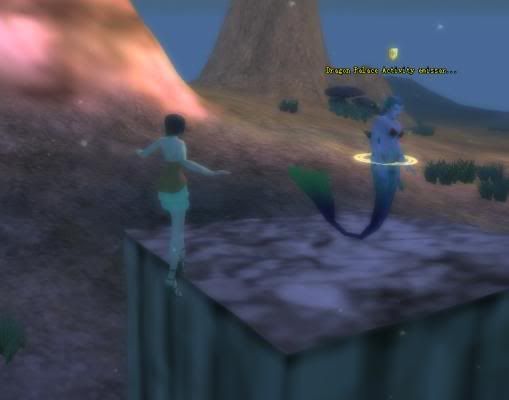 The NPC will give really nice rewards. The special mobs in the event may sometimes drop badges of stamina which can be exchanged for 6000 skill points.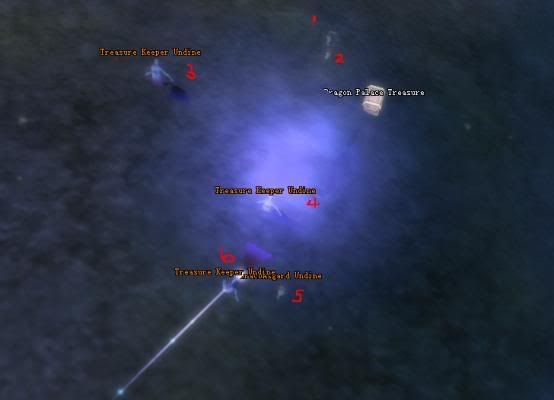 Some chests are guarded by many mobs. The three main guarding mob are DracoAsgard Guard, Treasurekeeper Undine, and DracoAsgard Undine.
As seen from the screenshot above, there are 6 mobs guarding this particular treasure chest. 1,2,5 do not move and deal so-so damage. 3,4,6 move around the area near the chest. DracoAsgard Guard which is not shown in the screenshot is also patrolling the area.
Special items: Pwnage necklace.
[break=Level 80 events]
Level 80: NetherBeast City
Occurs every monday 8pm to 12am. Requires a party for this event. You need to kill various bosses with your party. You can continue this quest the next week if it's incomplete (which will likely to be the case). In total there are 22 bosses to be killed.
This event drops courage badges and special items that allows to exchange for 100 reputation. The loots from the bosses are free for all to pick.
In this event you will not lose any experience or gold when you die. You will be revived in the bottom left room. You may exit by talking to the npc at the entrance.
There are five types of the quest. Players may choose the quest which is suitable for their level.
Reward for winning this event is a ring.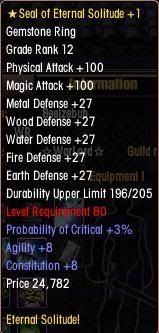 [break=Special event]
Grudge Invasion
A special event that takes place at only two areas. Time is unknown. This event is totally random. It lasts for an hour. Similar to rancor force except that there's no announcement and the mobs has no level. It has no boss and apparently, the mobs drop special items that gives experience. These items are not tradable.
[break=Future Events]
Invasion of Ancient Dragon City
Every Wednesday. Ten minutes before the event begins, defending soldiers will appear at the West, South and North gates. There will also be a system announcement about the invasion. After the event begin, enemy soldiers will begin to attack the gates
The attack will occur in five waves of attack. There will be at least one boss in each wave. When a boss from a previous attack dies, the next attack will begin immediately. In each attack, the enemy soldiers will respawn continuously until the boss die.
When the event comes to an end, previously unsummoned bosses will not appear but the bosses that are on the battlefield will continue to attack. All bosses and mobs drop items that can be exchanged for reputation. Each boss will drop drop one badge of fearless.
Yearly Horse Racing
Only players with the yearly race ticket are able to enter this event. Every player who join in this event will receive 50 mirage stones (O_O). The first 16 players who reaches the final checkpoint will win a level 45 clock with 4 socket, +10con, +500 phy def, +3% decrease physical harm and increase in movement speed 0.2m/s, and a special mount.
Personal Comments: holy shit. I want that cloak! /(>.<)\
Wisdom Quiz
Yet to be released, this event is a simple quiz. To join this event, you need to have a wisdom card.
There are ten level. Each level contains 10 questions. Each time you completed a level, you will have to talk to the npc to continue to the next level. Should you answer wrongly, you will need to use another wisdom card to redo the question.
Every time you completed a level, rewards will be given. The quality and quantity of the prizes depend on the level you completed. The higher the level, the better the reward. If you do not have any space in your inventory you will not be able to receive the reward and you have to redo the quiz all over again.
Players must complete each level within an hour or they will not be able to receive any reward for that level.
Note: If you completed the quiz within the time limit, you can repeat the quiz if you wish to do so.
[break=Misc]
7 Virtues
The purpose of any wolf cub events is not just to have fun but also for you to exchange for one of the best weapon in the server. The level 90 legendary red weapons. You need all seven kinds of prove and 35k reputation to obtain the weapon. Since there is still one last event that has yet to be release, this weapon is not available in MY-EN, MY-CN and PW-PH.
To summarise everything up, the following badges can be obtained from the following events:
Badge of Speed – Daily Horse Race
Badge of Strength – Tomb Rider Competition
Badge of Intelligent – Dragon Quest (exchange 5 bronze for one)
Badge of Technique – Forest Ruins
Badge of Courage – Nether Beast City
Badge of Stamina – Dragon Palace
Badge of Fearless – Event not released/Open a warrior's prove (not in MY-EN)
Incoming search terms: